Looking for ladybug gifts? When thought of and envisioned, a ladybug, or a ladybird as some like to call them, are fine and elegant creatures that immediately catch the eye.
The multitude of shades and the sheer vibrancy of their color are enough to leave one in awe. From red to white, the dotted insects are anything but reviled.
The wonder and amazement that they inspire is not merely coincidence at play. Ladybugs, which are often touted as the embodiment of Lady Luck, are a symbol of protection and prosperity.  Ladybugs wander about as they please and fly off as soon as they reach the tip of a finger.
But their fortune and protection can linger through the exchange of symbolic ladybug gifts.
Ladybug Gifts
Depending upon who the ladybug gift is intended for, you can choose between jewelry items, clothing, decorative pieces, etc.
Regardless of the form these symbolic gifts take, they're sure to be pleasing to the eye and will hopefully attract a lot of prosperity and good fortune your way. While keeping you safe and protected.
Before delving into the discussion on what would make an appropriate ladybug gift for your loved ones, it's a good idea to get an understanding and perspective on what makes these particular beetles stand out.
What Is so Symbolic about Ladybugs Anyway?
There are many myths, symbolism, and attributes that are often linked to these tiny creatures. Depending upon who you ask, you will get varied answers about what makes ladybugs so special. Here are some of them. For a more in-depth view, take a look at my article Ladybugs, in Luck, Love, and Symbolism.
A Little about the Friendly LadyBugs
Belonging to the family of the Beatles, ladybugs vary in their colors, although red is the most common. Also known as lady beetles, they have distinct markings, generally dots, on their bodies.
Regardless, these oval-shaped incredibly tiny creatures are beautiful, simply put. Not only are they harmless to nature and other beings.
But they're incredibly important to us, and they are quite beneficial for gardens and agriculture, which is why they are lauded to be the bearers of good news and incredible luck.
Cultural Significance
Different cultures associate different significances with ladybugs. While the reality of these myths or superstitions is debatable, it never hurts to believe in a little bit of luck.
Some cultures consider it an honor if a ladybug lands on a person and presume that the ladybug brings change and improved circumstances for its bearer.
The ladybug's charm is such that the Chinese art of Feng Shui includes the insect as a part of optimizing energy flow.
Some people also hold to the belief that ladybugs represent a safety charm of sorts such that if a newborn child were to have something adorned with the insect, like a toy or clothing showcasing the ladybird, then it would see to their wellbeing and shield them from any bad omen.
Environmental Benefits
Another blessing that the Beatles bequeath to its owner is one that nature has made innate to them. Farmers employ ladybugs to populate their crops and fields to ward off pest insects that are otherwise detrimental to their produce.
Seeing Ladybugs in a Dream
Some people are also of the belief that dreaming about ladybugs has a significant underlying meaning to it. Seeing a ladybird in your dream foretells of good news coming your way from an unlikely source.
It serves as a sort of prediction for luck and is considered to be a fortunate time for making important decisions and dabbling in investment opportunities.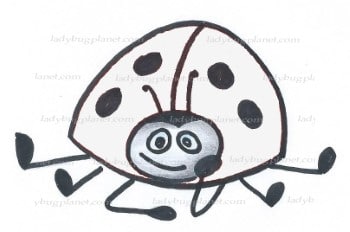 But while the insect is often associated with positivity, the opposite is just as plausible. It is said that in seeing a dream in which a ladybug is in a cotton field symbolizes enemies spreading malicious and disreputable gossip pertaining to you.
Similarly, seeing a swarm of ladybirds symbolizes chaos and pandemonium in one's life and cautions one to proceed with care.
Make a Wish upon a Ladybug
Magical beings that they are and flamboyant in their appearance, ladybugs confer good luck on people by doing the simple favor of landing on a person.
Although most beetles inspire horror and are reviled when they crawl upon an individual, the opposite is the case when considering these minute creatures, allowing it to be no wonder that ladybirds are such a revered and treasured species of insects.
And as folklore and mythic tales would have it, if someone makes a wish when a ladybug is perched on the hand, they get their wish. The direction that the ladybird flies away in becomes the way from which the blessings or the fulfillment of the wish will appear.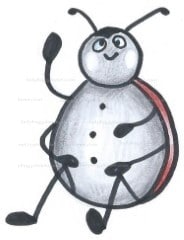 Top Ten Symbolic Ladybug Gifts
With such a role in shaping so many cultures and as well as civilizations, it is no wonder that there are many admirers of the creature.
But irrespective of the goodwill that ladybugs may or may not bring upon the recipient, it is no debate that they would make for a very beautiful gift for anyone.
Crafted with great precision and care to transform otherwise typical items into a charming facsimile of these amazing creatures, here are my top 10 ladybird gift items to choose from.
Depending on the receiver, there is a selection of jewelry, clothing, and miscellaneous other items to choose from, all depicting the good fortune that is sure to follow through with the possession of a ladybird and ward off the bad.
If you can't see what you're looking for, I have other items in my gifts section so be sure to check them out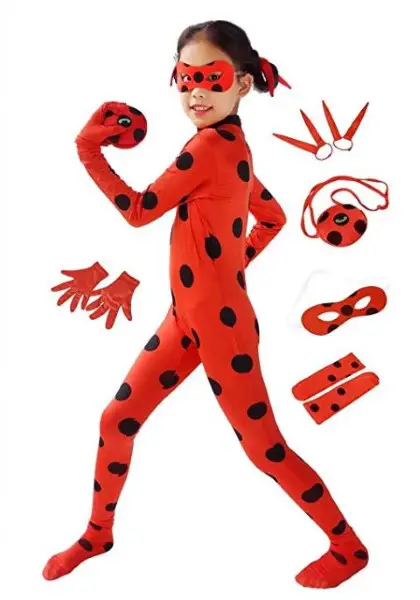 All kids love Ladybugs, and many love and I bet yours does too. These are perfect for your child to feel like they are Miraculous Ladybug!
Measurements are:
length: Small-39.4″, Medium-44.1″, and Large-49.2″ Ranging from 5 up to 12 years old, there's a handy height gauge chart too.
Made of soft cotton and spandex so allows some growth room too and is comfy to wear. She simply won't want to take it off after the party!
It comes with headwear, gloves, socks, a jumpsuit (footless and handless), a mask, and a yo-yo belt.
You can get the Ladybug Children's Costume here on Amazon. I only wish these were around when I was younger! But then there is one for moms to join in too. And the men can be Cat Noir!
Countless cultures believe that a ladybug is an embodiment of peace and protection. Babies, in particular, are quite prone to injuries and other such health concerns.
This is reason enough to keep any ladybird-themed item at hand as a precaution.
What better way to do that than this adorable embroidered toy that your child can snuggle with? You can find it here on Amazon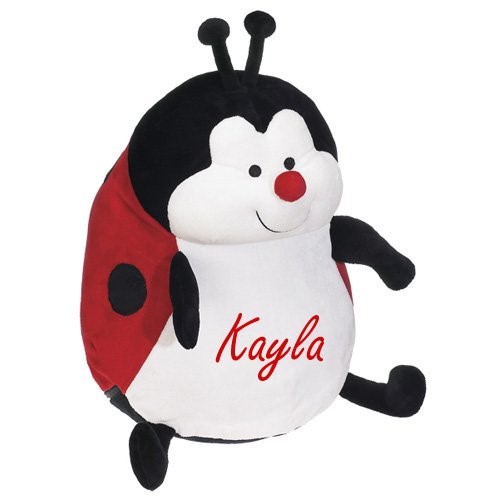 16" Inches 
Removable main pillow 
Zipper bottom 
Super soft plush 
For sleepovers, naps, and bedtime comfort 
Designed in Canada.
The plush toy is a little Ladybug something for the little ones to make them feel cherished and cared for, while at the same time allowing parents to calm their fears by dabbling in a little superstition and extra luck. You can also get the toy customized with your baby's name to make the gift even more special.
To have a name embroidered on it, you will need to include some details… 
I.) What name you would like – up to 9 characters 
II.) What font to embroider – either cursive or serif. 
III.) What color thread – Can be almost any color you choose.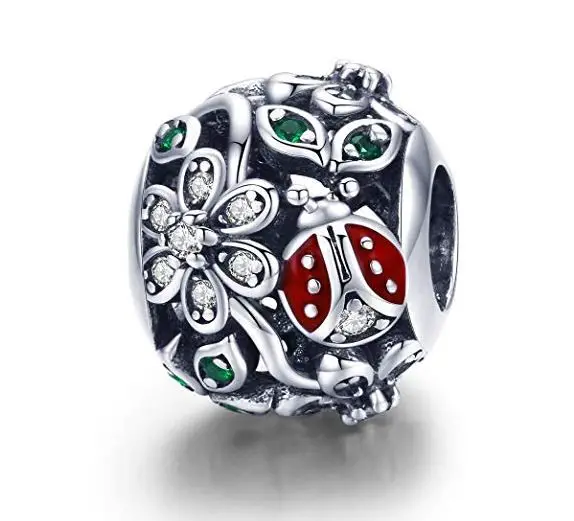 Carry a good luck charm around with you all the time with this ladybug Flower Wonderland bead charm. Also compatible with necklaces too.
Made from genuine sterling silver. Compatible with Pandora, Biagi, Troll, Chamilia, European Style, Persona, Ohm, Kay' and more.
Hole Size: 4.5mm, Weight: 2.1 grams. It's a great personalized gift for Mother's Day, a Wedding gift, Anniversary, Christmas, or Valentine's Day.
For Sister, God-daughter, Mom, Grandmother, Daughter, Wife, Fiance, Girlfriend, Aunt, Mum, Grandma, Female Friend, or even Treat Yourself. I've added the link here to Amazon 🙂
Delight your guests at your baby shower or for party favors with this cute set of candle tins. They measure 1.66″ wide and come in a set of 12 candles.
Individually wrapped in white organza bags for that gift wrap touch.
You might be able to find something similar locally, but if not then you can get them here on Amazon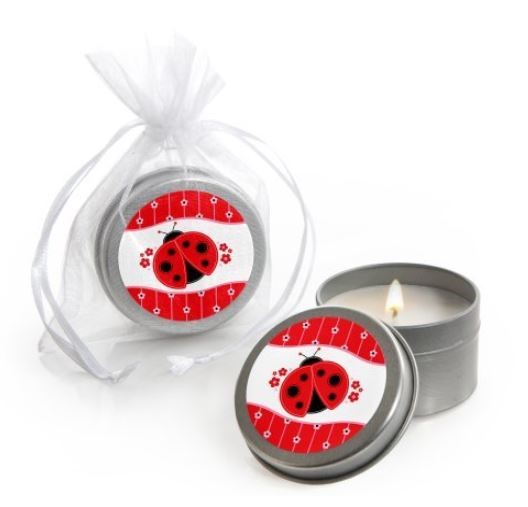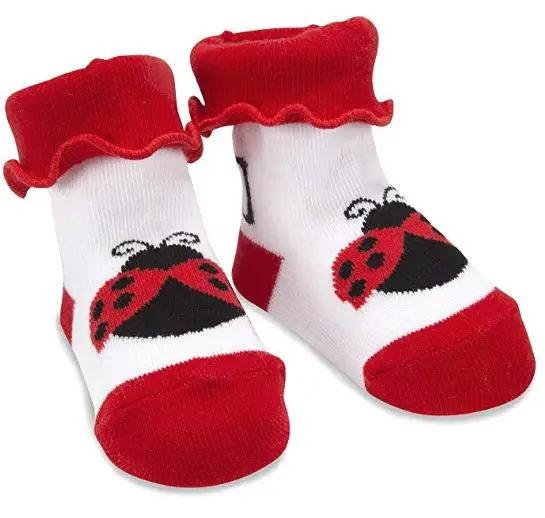 Winter is that time of the year when it's impossible to get perfectly comfortable without needing to put on multiple layers of clothes and socks to keep you warm and toasty.
With babies, it goes without question that they need extra warmth and needs to be ensconced in just the right amount of clothes to avoid getting cold.
Here's the link to them on Amazon.
Give your baby the comfort they need with these cozy socks that are sure to keep them warm during the winter chill.
From Izzy and Owie's line of baby goods and accessories, these cotton socks are extremely snug and soft and are perfect for both boys and girls. Patterned with adorable ladybugs to give them extra protection, these also make for a great gift for nieces and nephews.
As children grow older, it's fairly common for them to develop a fear of the dark – and unknown things that go bump in the night. To calm their fears and help them get a good night's rest, the Twilight Ladybug from Cloud B is the perfect thing to have.

Equipped with the ability to project various constellations and illuminate the dark recesses of their rooms, this little ladybug allows children to doze off with no night scares.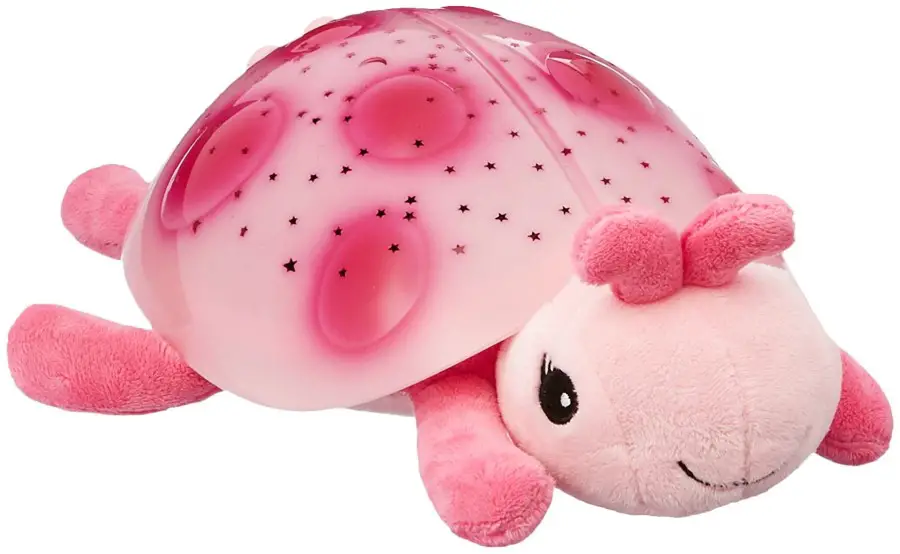 With various colors and constellations to choose from, the nightlight is programmed to keep alight for 45 minutes before it powers down, with plenty of time for the little one to drift to sleep.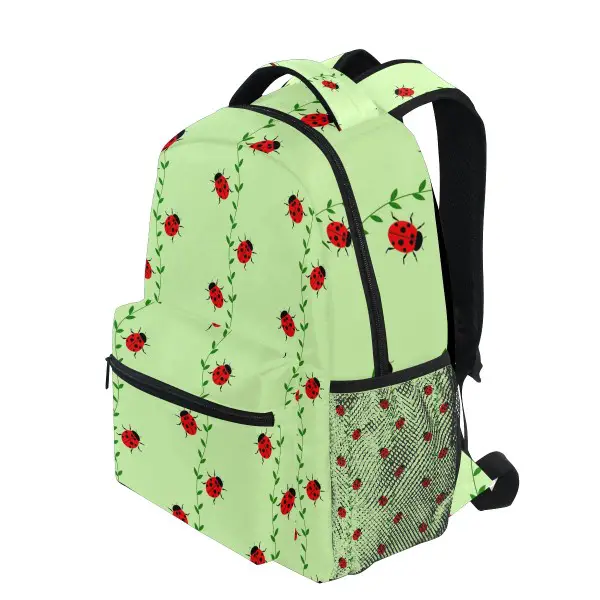 This lovely cute travel backpack is perfect for the kids, for mom, or for taking to college.
Dimensions are 11.5x8x16 inches. Made of quality lightweight Polyester, with a smooth zipper
The main compartment has a zipper closure, there's one exterior zipper pocket; Water-bottle pockets on both sides, and four interior pockets
It has adjustable shoulder straps to suit all sizes and comfort control and can fit about a 14″ laptop in it too.
It is a great backpack for casual life. You can take it to school, college, cycling, days out, weekends away, shopping, or cycling.
You can get this wonderful Backpack here on Amazon
Play some of your favorite games with this New York Times best-seller. Discover feelings and love.
This is a great gift for your little Ladybug fans.
Board games include:-
Ladybug Girl Plays
Ladybug Girl and Her Mama
Ladybug Girl Feels Happy
Ladybug Girl Loves
You can get this lovely Little Box of Ladybug Girl set here on Amazon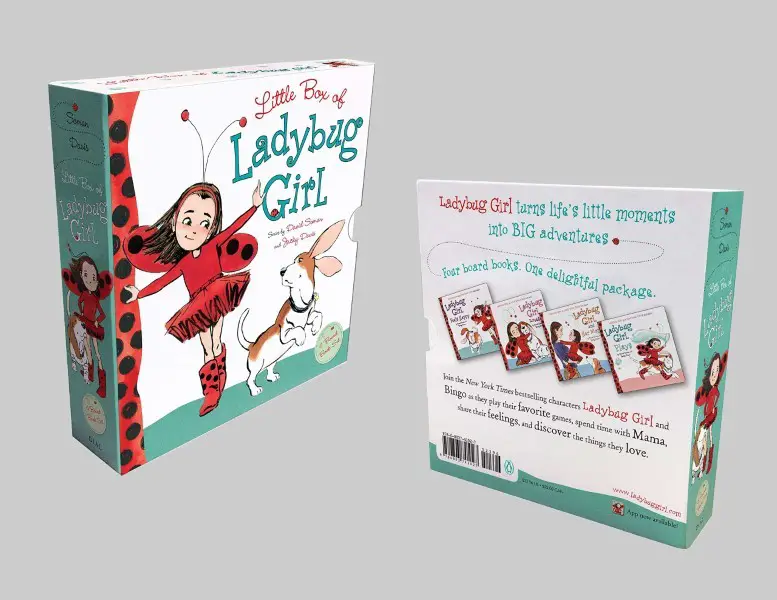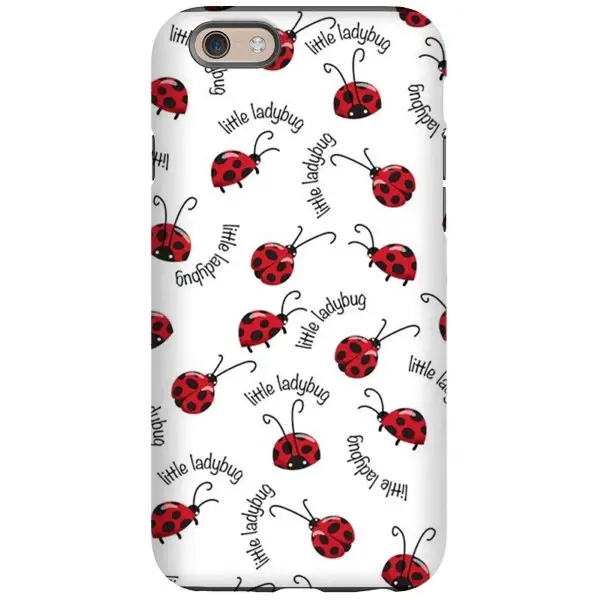 Quite simply the cutest phone case I've come across.
Sure there are others and I'm sure I'll find more in time, but this is the most wonderful I've seen so far.
As well as looking wonderful, this case is shatterproof and scratch resistant
There may be other sizes available too I'm not sure. This link will take you to the 6/6s on Amazon.
There are other sizes available, this link will take you to the 6/6s on Amazon
I couldn't leave without giving at least one mention to Miraculous Ladybug, for many young girls this has made the land of Ladybugs even cuter and dare I say action packed too!
This radio projector clock will take 'pride of place.' Complete with Sound effects and battery-powered.
Red and Black with a blue backlit screen. It projects cool icons onto the ceiling when activated.
10 Nature sounds, alarm with radio or nature sounds wake up and snooze function too!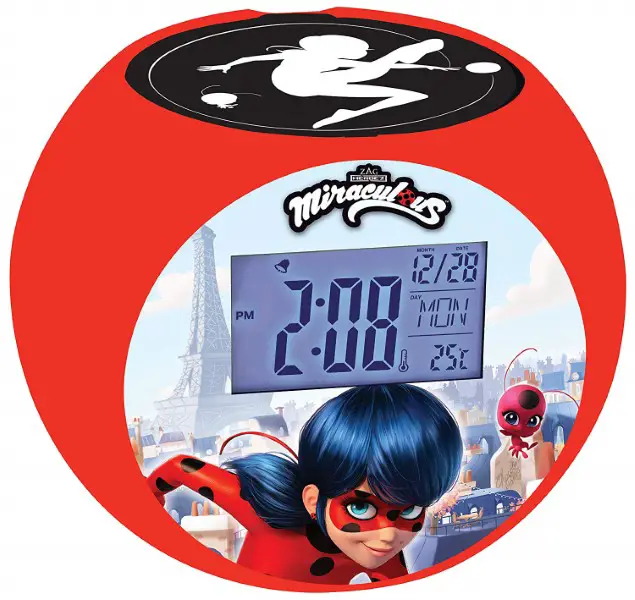 Everybody loves Miraculous Ladybug, make a great gift for your child out of it, you can find it here on Amazon
Ladybug Gifts – My Thoughts
Ok so not all these gifts will appeal to everyone, but for those you like, why not Indulge in a little bit of fanciful thinking and wishful longing by purchasing one of these ladybug-inspired gifts?
Having some ladybug collectibles will not only promise the safekeeping of loved ones or the bequeathing of joyful luck but are an endearing and wonderful way to let your family and close friends feel adored.
If you can't find something inspirational here, then check out other items on my gifts page.